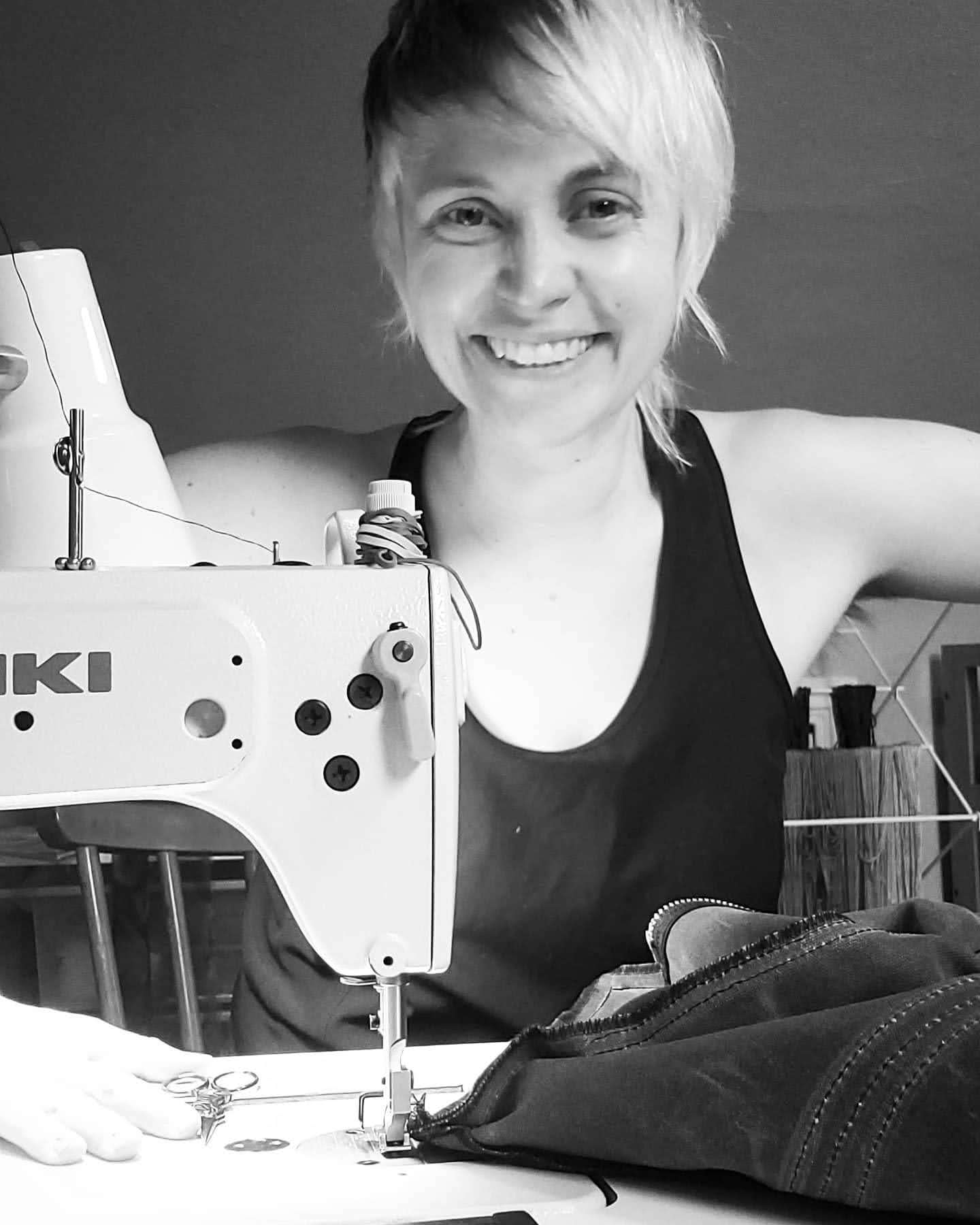 HI! I'm Melanie. My mom taught me how to sew and knit when I was in elementary school. I was in 4-H and continued sewing. I grew up in Western Montana in the mountains and love love love the outdoors. I went to camp every summer, even a 4-H sewing camp a couple years! In high school one of my camp trips was rock climbing. I later worked at that camp and was a counselor for a few rock climbing trips and a high ropes course facilitator. I also met my husband there!
I went to Cottey College, a 2 year women's liberal arts college in Missouri. From there I went to Philadelphia University for Fashion Design. After graduating I started working for Viv Pickle, a local custom handbag studio made of young women making bags, all day, every day. We affectionately refer to each other as 'the pickles'. Over my seven years there, I learned how to do every job and was production manager. I left Viv Pickle to work at home while I had my first daughter Estelle. I started sewing bags for Peg and Awl, a new husband and wife team business. They were awesome waxed canvas bags. Heavy duty and very durable. I was able to sew and design at home. Shortly after Estelle came Hazel and the bag making continued.
During this time my best friend and I wanted an activity to do together to help mend a rocky spot in our relationship. We started rock climbing at Go Vertical along the Delaware in Philadelphia. We would go a few times a week for several years. My friend moved, and I roped in a new climbing partner and had a couple babies during that time. I climbed and bike pregnant and it was great!
We moved from our Fishtown Neighborhood to Bridgeport PA, cutting my husband's commute from 1 hour down to 8 min. This was far away from my rock gym and my climbing partner. I tried to commute to climb, but it wasn't sustainable. After a few years in Bridgeport, a new rock gym was being built just half a mile from my house. I held onto my excitement until there were actually walls up! I applied for a job and have been working at Reach Climbing and Fitness for the past three years.
I have been crafty my whole life. I love saving things to 'make something later' . I had some ideas for these ropes that were being thrown out. Since I had been sewing bags for the past 15 years, I had some ideas for bags. I played around with shapes and techniques. I try to write down all the ideas as they come. The outside of the rope is so colorful, but it seems quite silly to save the outside, just to throw the inside away. So I have been dying the core and making wall hangings.
The past year I left Peg & Awl after 9 years, bought a house with my husband, and got through a pandemic. I have a devoted sewing room and am working on saving ropes from the trash and getting them back into the hands of climbers. I have so many more ideas and things I would love to try with these ropes. I've found many other makers creating with climbing rope online.
This is the beginning and I'm excited to see what's next!
Thanks for checking out my website!